President Donald J. Trump has posted more than 47,000 tweets since he joined Twitter in 2009.
Though the President's Twitter game has slowed down considerably since the days of McDonald's-fueled frenetic late-night Twitter binges on the 2016 campaign trail, his ability to condense amusing quips and anecdotes into 140 characters or less has left the internet with a veritable treasure trove of platinum-tier sh*tposts.
National File set out to assemble a compendium of the best and most relevant tweets of the decade, without using a restrictive "top 10" numbered format.
The tweets are ranked below:
22. Merry Christmas
People are proud to be saying Merry Christmas again. I am proud to have led the charge against the assault of our cherished and beautiful phrase. MERRY CHRISTMAS!!!!!

— Donald J. Trump (@realDonaldTrump) December 25, 2017
21. No Mercy To Terrorists
NO MERCY TO TERRORISTS you dumb bastards!

— Donald J. Trump (@realDonaldTrump) April 21, 2013
20. Greta's Anger Management
So ridiculous. Greta must work on her Anger Management problem, then go to a good old fashioned movie with a friend! Chill Greta, Chill! https://t.co/M8ZtS8okzE

— Donald J. Trump (@realDonaldTrump) December 12, 2019
19. My Button Is Much Bigger
North Korean Leader Kim Jong Un just stated that the "Nuclear Button is on his desk at all times." Will someone from his depleted and food starved regime please inform him that I too have a Nuclear Button, but it is a much bigger & more powerful one than his, and my Button works!

— Donald J. Trump (@realDonaldTrump) January 3, 2018
18. Joe Biden Would Go Down Fast And Hard, Crying All The Way
Crazy Joe Biden is trying to act like a tough guy. Actually, he is weak, both mentally and physically, and yet he threatens me, for the second time, with physical assault. He doesn't know me, but he would go down fast and hard, crying all the way. Don't threaten people Joe!

— Donald J. Trump (@realDonaldTrump) March 22, 2018
17. Being, Like, Really Smart
….Actually, throughout my life, my two greatest assets have been mental stability and being, like, really smart. Crooked Hillary Clinton also played these cards very hard and, as everyone knows, went down in flames. I went from VERY successful businessman, to top T.V. Star…..

— Donald J. Trump (@realDonaldTrump) January 6, 2018
16. Yelling At Mac Miller
Jesus, Trump really did tweet a lot about the late Mac Miller, didn't he https://t.co/EYzhVuMWGw pic.twitter.com/xwkQwylBTX

— Asawin Suebsaeng (@swin24) September 9, 2018
15. Deals Are My Art Form
Deals are my art form. Other people paint beautifully or write poetry. I like making deals, preferably big deals. That's how I get my kicks.

— Donald J. Trump (@realDonaldTrump) December 29, 2014
14. Thot Patrol – Megyn Kelly
I refuse to call Megyn Kelly a bimbo, because that would not be politically correct. Instead I will only call her a lightweight reporter!

— Donald J. Trump (@realDonaldTrump) January 27, 2016
13. Thot Patrol – Cher
.@cher–I don't wear a "rug"—it's mine. And I promise not to talk about your massive plastic surgeries that didn't work.

— Donald J. Trump (@realDonaldTrump) November 13, 2012
12. Thot Patrol – Bette Midler
While @BetteMidler is an extremely unattractive woman, I refuse to say that because I always insist on being politically correct.

— Donald J. Trump (@realDonaldTrump) October 28, 2012
11. Morons At Charlie Hebdo
If the morons who killed all of those people at Charlie Hebdo would have just waited, the magazine would have folded – no money, no success!

— Donald J. Trump (@realDonaldTrump) January 14, 2015
10.  Happy Cinco De Mayo
Happy #CincoDeMayo! The best taco bowls are made in Trump Tower Grill. I love Hispanics! https://t.co/ufoTeQd8yA pic.twitter.com/k01Mc6CuDI

— Donald J. Trump (@realDonaldTrump) May 5, 2016
9. Low I.Q. Mika's Bad Facelift
I heard poorly rated @Morning_Joe speaks badly of me (don't watch anymore). Then how come low I.Q. Crazy Mika, along with Psycho Joe, came..

— Donald J. Trump (@realDonaldTrump) June 29, 2017
…to Mar-a-Lago 3 nights in a row around New Year's Eve, and insisted on joining me. She was bleeding badly from a face-lift. I said no!

— Donald J. Trump (@realDonaldTrump) June 29, 2017
8. Arianna Huffington Thot Patrol
.@ariannahuff is unattractive both inside and out. I fully understand why her former husband left her for a man- he made a good decision.

— Donald J. Trump (@realDonaldTrump) August 28, 2012
7. My I.Q. Is One Of The Highest
Sorry losers and haters, but my I.Q. is one of the highest -and you all know it! Please don't feel so stupid or insecure,it's not your fault

— Donald J. Trump (@realDonaldTrump) May 9, 2013
6. Despite the constant negative press covfefe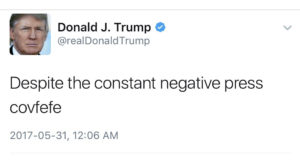 5. Chidlren Are Being Grabbed By The Perverts
Got to do something about these missing chidlren grabbed by the perverts. Too many incidents–fast trial, death penalty.

— Donald J. Trump (@realDonaldTrump) October 8, 2012
4. Kim Jong-un Is Short And Fat
Why would Kim Jong-un insult me by calling me "old," when I would NEVER call him "short and fat?" Oh well, I try so hard to be his friend – and maybe someday that will happen!

— Donald J. Trump (@realDonaldTrump) November 12, 2017
3. Many Such Cases
Healthy young child goes to doctor, gets pumped with massive shot of many vaccines, doesn't feel good and changes – AUTISM. Many such cases!

— Donald J. Trump (@realDonaldTrump) March 28, 2014
2. I Have Never Seen A Thin Person Drinking Diet Coke
I have never seen a thin person drinking Diet Coke.

— Donald J. Trump (@realDonaldTrump) October 14, 2012
1. They Were Born F**ked Up
Every time I speak of the haters and losers I do so with great love and affection. They cannot help the fact that they were born fucked up!

— Donald J. Trump (@realDonaldTrump) September 29, 2014
Finally, an honorable mention recommended by multiple readers:
Barney Frank looked disgusting–nipples protruding–in his blue shirt before Congress. Very very disrespectful.

— Donald J. Trump (@realDonaldTrump) December 21, 2011