Accusations dating back to 2014 claim that Heidi St. John, now running alongside Joe Kent, who President Donald Trump endorsed today, ignored the plight of a 6-year-old boy who was allegedly molested by an older peer, and accuse St. John of successfully having the 6-year-old boy's mother banned from a business conference in retaliation after she was named in a letter outlining the abuse allegations.
Jenefer Igarashi alleges that her son was molested at 6-years-old by his cousin, the then-teenage son of homeschool icons Paul and Gena Suarez, who publish a popular magazine, The Old Schoolhouse. Gena Suarez is the sister of Igarashi. Igarashi says that the Suarez family first reacted with shock and horror after learning of the allegations, and says that the Suarez's son admitted to the abuse when confronted.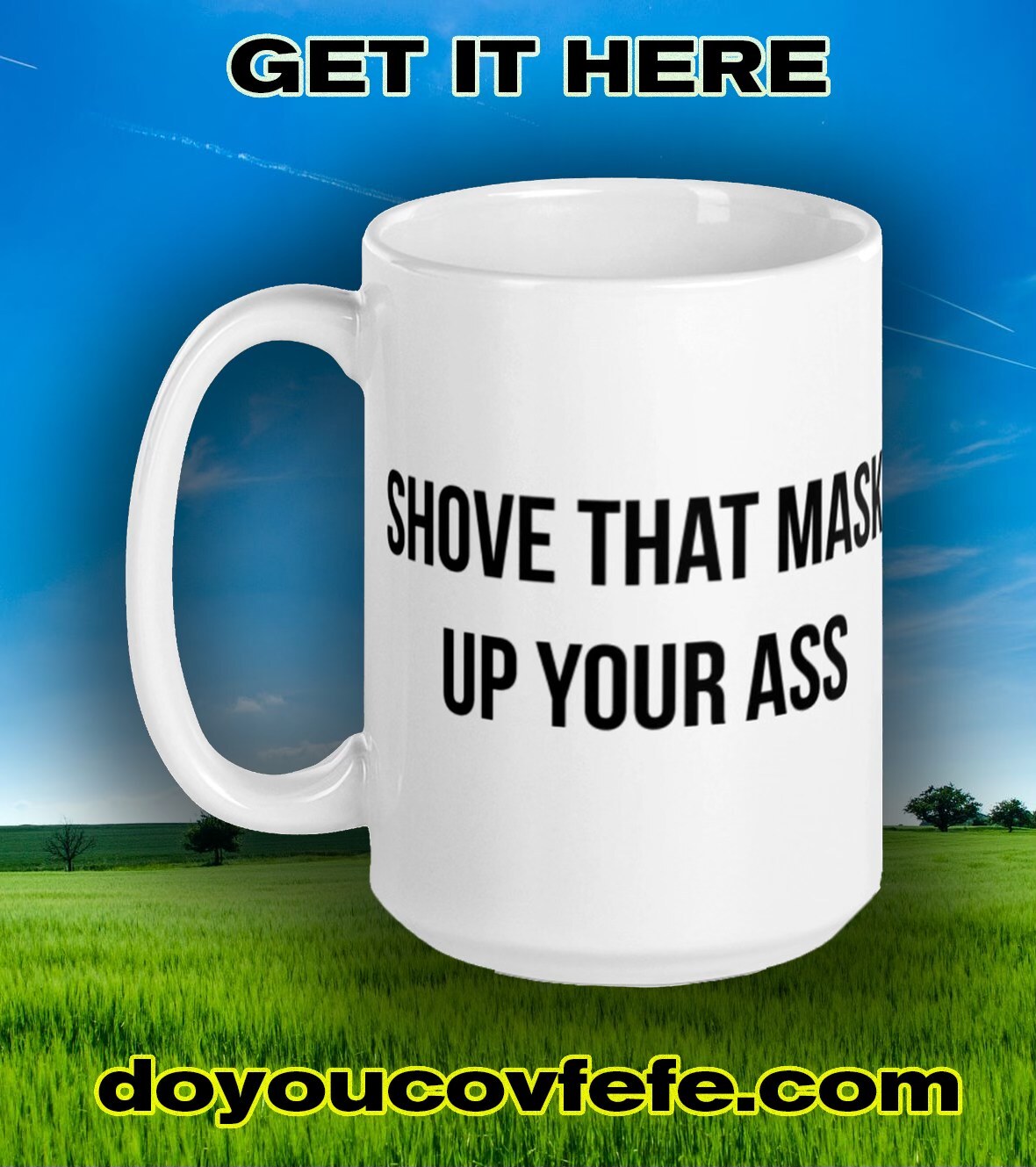 Igarashi provided emails suggesting the Suarez family announced their intentions to separate themselves from The Old Schoolhouse following the alleged admission. Then, Igarashi says the Suarez family began a campaign to discredit, bully, and cancel Igarashi. Eventually, Igarashi enlisted 20 witnesses to send a letter to prominent members of their community regarding the Suarez family's alleged history of child abuse, including the alleged molestation of Igarashi's son.
Included as a witness in the letter was Heidi St. John, then the publisher of The Busy Mom, and now a Republican candidate for U.S. House. St. John was upset at being included in the letter, and in an email to Igarashi, said she was "in the middle of the busiest season of the year for our family" and "would like to be removed entirely from this letter". She added, "We love you and we love the Suarez's. We're grieved that this is happening but we cannot and will not be part of it." She also said she would pray "for reconciliation for the sake of the gospel."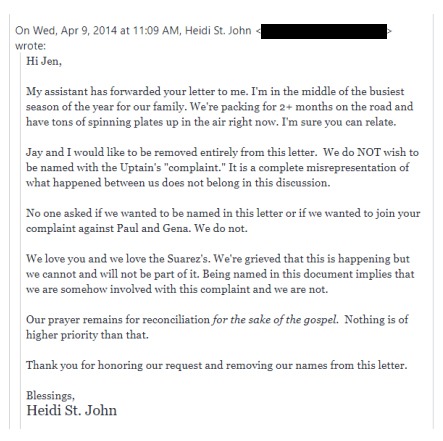 When Igarashi replied that the letter had already been sent, St. John again asked for her name to be removed, and wrote, "This is a huge distraction for us in the middle of the busiest season of the year." Then, according to Igarashi, St. John used her considerable influence over a popular homeschool convention, the Great Homeschool Conventions, to have Igarashi banned from the event. Igarashi planned to attend as a vendor. In a statement, Igarashi said that a convention sponsor – who unsuccessfully attempted to mediate the dispute – informed her that St. John was responsible for her ban from the event.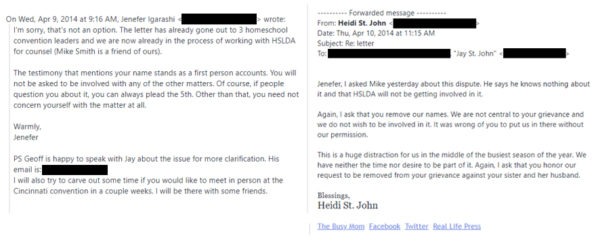 According to a 2014 article citing Eric Novak, a former employee of The Old Schoolhouse, the Suarezes moved "to rope in Heidi St. John and have [Great Homeschool Conventions] call Jenefer's workplace and request she be kept out of the GHC event." The report continues, "Allegedly pressured by St. John, the GHC leadership agreed to block Jenefer from the convention."
The report goes on to explain that while Igarashi was "waiting to board [her airplane]," she "received a call from her employer," who is a "well-known company that exhibits at homeschool conventions across the United States." The employer "received a phone call from Kim McMillan, Exhibitor Coordinator for the Great Homeschool Conventions" and "McMillan told Jenefer's employer she was calling on behalf of GHC president Brennan Dean requesting that Jenefer not be sent to the convention because of her 'threatening emails' to the Suarezes."
Igarashi repeatedly attempted to seek help via Christian resources. After she was allegedly blocked from attending the convention due to St. John's influence, she apparently attempted to mediate the dispute with the help of David Gibbs, an attorney who reportedly claimed he "didn't even really know" the Suarezes and was "simply told by Heidi St. John and Brennan Dean that there was an 'issue' with which he could help by arranging an 'unbiased mediation' with the Suarezes." Igarashi later learned that Gibbs worked as a columnist for The Old Schoolhouse, and "was a part-owner as well as a corporate sponsor and organizational partner of the Great Homeschool Conventions – the company that just banned Jenefer from their convention and featured Heidi St. John." The 2014 report adds that, at this time, "GHC has only three corporate sponsors: one is The Old Schoolhouse and another is David Gibbs' National Center for Life and Liberty."
The attempt at mediation ended, according to Igarashi and Novak, with Igarashi being pushed to sign an agreement that indicated she would face a lawsuit if she continued informing others of the alleged sex abuse experienced by her child. Igarashi broke this agreement with two blog posts, one naming St. John, who apparently then released a statement calling Igarashi and Novak "fringe" elements of the homeschool community.
In the statement, St. John claimed, "I did not request anyone be disinvited from a convention. I did not cover up a child abuse scandal. Both of these accusations are completely false." She also accused Igarashi and Novak of spreading "false information" and fully rejected the accusations levied against her.
These claims resurface at a time when Democrats and teachers unions are losing their grip on education funding with the exodus of students from classrooms that occurred during the COVID-19 pandemic, something left wing publications and academia have seized on as a "threat" to the modern education system, which is currently promoting radical anti-white Critical Race Theory.
Recently, the Biden administration suggested that Critical Race Theory should be taught in schools – something homeschool parents seem to be rejecting – with Press Secretary Jen Psaki claiming that students should learn the controversial curriculum because "The president believes that in our history, there are many dark moments." Psaki also said that Critical Race Theory is important because the U.S. is plagued by "systemic racism", making Critical Race Theory a "responsible" part of public school curriculum.
Perhaps unexpectedly, the National Education Association (NEA) also believes that Critical Race Theory is important. At its recent annual meeting, conducted virtually, the NEA adopted "New Business Item 39" which seems to explicitly call for the country's largest teachers union to defend teaching critical race theory. "It is reasonable and appropriate for curriculum to be informed by academic frameworks for understanding and interpreting the impact of the past on current society, including critical race theory," says the item, per Reason.
It seems as though these allegations against St. John – especially should she become the party nominee – may be used against homeschool parents throughout the United States by Democrats and powerful unions, including the NEA, who in 2015 passed a resolution condemning home schooling, saying that homeschool "cannot provide the student with a comprehensive education experience."